---
Zanpakuto Name: Tanpopo
Zanpakuto Spirit Appearance: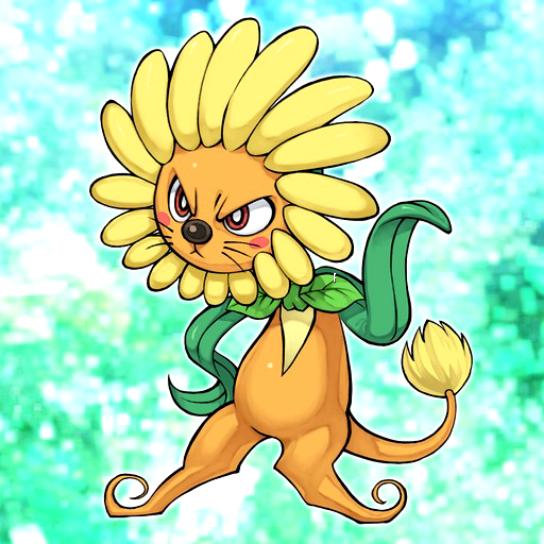 Zanpakuto Spirit Personality: He's a scruffy little up-and-comer. If her were a human he'd be a paper boy. He has the indomitable spirit of a lion, as well as the kindness of a plant, if that makes sense. He's a very honorable type of guy and doesn't much care for underhanded tactics. He doesn't particularly care which side of a fight he's on, he's not a political type of guy. However he believes people should be called out in duels, and not stabbed in the back or some other underhanded tactic like that. Now while he's honorable he's not nessesarily respectful. He's very childish and will go about calling people names and other childish gestures, he's silly.
Inner World: A vast green field that spread out over the horizon. The field consists of waist high flowering plants that tangle around one's legs as they walk through the fields. The field is mostly uniformly a smooth field of rainbow colored green. The only feature that differs from the field is a huge Dandelion that stands hundreds of feet above the field. It's seeds are the size of a human being, and just like in A Bugs life you could easily fly on the wind with one.
Above the field are blood skies, with wispy white cloudy clouds. There are little islands floating above the field, they have cute little water falls they flow onto the ground below. You can grab onto one of the giant dandelion seeds, and fly up into those floating islands. The whole world had a very serene feel about, calm and without strife.
Sealed Zanpakuto Appearance:
A standard length katana held in a black sheath. It's hilt guard is made of a golden metal shaped like a Daisy. It's handle is wrapped up in alternating yellow and black chords, and is inlaid with similar daisy shaped studs.
Release Phrase: Make a wish
Shikai Appearance: Tanpopo transforms into a spear a meter and a half in length. The shaft and tip are colored a dark green tint. On the opposite end of the tip is a white ball a thirty centimeters in Diameter. This ball is actually a hundred Dandelion seeds and can be seen swaying in the breeze. The white tuff hides a second sharpened point.
Shikai Abilities: Tanpopo can scatter his seeds into the air. These seeds will take root on any object they land one. where the seeds land exact copies of of Tanpopo will grow from that spot rapidly. Seedy side pointing up, and the tip of the spear planted into the ground. This ability can be activated from a distance without Gwyn touching the spear. She can also choose to delay the activation of the seeds keeping them dormant until they are needed. The back of the spear holds up to one hundred seeds.
A spear itself only lasts for four turns before decaying. Tanpopo can regrow it's seeds over the course of three turns, but only after all one-hundred of it's seeds have been dispersed. If a person is stronger than Tanpopo's own strength they can resists sprouting spears from actually growing into them.
Weakness: The seeds of Tanpopo can only be eject three meters from the spear before they loose momentum and fall to the ground. They have a very short range, and is completely dependent on the wind blowing in Gwyn's favor.
Gwynevere can stab the Spear into the ground, and the tip of it will exit at any solid point within 20 meters. The spear can be parried with equal Weapon Skill.
Weakness: If the tip of the spear get's caught or trapped while extended through the dirt it will be stuck like that until Gwynevere can fix it. 1 Turn Duration 2 Turn Cooldown.
Bankai Appearance: Gwynevere grows what looks like a lions mane, which is really made out of yellow, orange, and red flower petals. She also grows a cute little lion tail which is also made of dandelions!
Tanpopo himself transforms into a bright yellow shield two meters in diameter. When he transforms the seeded tip of the spear splits open like a flower in bloom. The whole shafts unravels like a flower until the spear is gone, replaced with the shield. The flower shield wraps around Gwynevere's arm fusing with her body.
Bankai Abilities:
While in her Bankai Form any spears that grew from Tanpopo's seeds also begin to grow a Gwyn as well! These artificial Gwyns have the same stats as Gwyn, but can't activate Tanpopo's Bankai. These Gwyn's can move independently of themselves.
The transformation happens in a 40 meter pulse of Tanpopo. The Gwyns stay around for three posts before decaying. More can not be grown until Tanpopo re-enters his bankai state.
Weakness: It takes an entire post for the artificial Gwyns to fully grow. Further more as they are made of plant matter if they're caught on fire, even a little they instantly go up in flames. Even Further More, New gwyns can only be grown out of spears which have all hundred seeds still on them. A person with Superior Weapon Skill can dispatch them.
Root System: If one of Tanpopo's spears, seeds, or clones is touching a surface which is touching a surface that Gwynevere is touching she can Meld with ground, move through the root systems between the two points and re-materialize partially of fully from the object Gwyn choose to travel to. It's not a litteral root system mind you, it's made of reishi!
Gwynevere can stay melded for three turns before being forcibly expelled from the closest exit.After fully re-materializing this move goes on a five post cooldown. She must make contact with an object before melding with it.
You Know like Zetsu:
Weakness: There has to be a physical line of contact for to travel, it can't be in mid air. It's not at all stealthy because the first thing to re-materialize its Gwyn Bright yellow flower shield blooming like a flower. Melding with the spears ends Gwyn's post. So it can't really be comboed well.
---